Discover the Powerful 8Pro Smart Watch: Your Ultimate Fitness Companion
Introduction: Welcome to our comprehensive review of the 8 Pro Smart Watch. Packed with a multitude of features and boasting an elegant design, this smartwatch is set to revolutionize your fitness journey. From receiving notifications to tracking your health metrics and enjoying various functionalities, the 8Pro Smart Watch is a versatile companion that seamlessly integrates with your daily life. Join us as we delve into its specifications and explore the vast array of functions it has to offer.


TEC-TALK with HIRUSHA වෙතින් ලොකු Discount කුපන් code එකක් Discount coupon code for 8Pro Smart Watch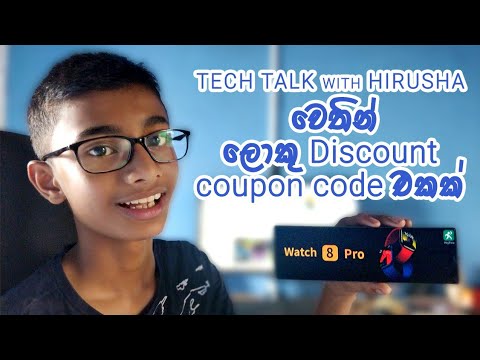 ---
Section 1: Specifications
The 8Pro Smart Watch stands out with its impressive specifications, ensuring a smooth and enjoyable user experience:
Watch Size: The 8Pro Smart Watch features a sleek and stylish 44mm design, perfectly blending aesthetics with functionality.

Watch Color: The smartwatch comes in a sophisticated black color, exuding elegance and versatility.

Strap Size: The adjustable strap of the 8Pro Smart Watch accommodates both 42mm and 44mm sizes, providing a comfortable fit for every wrist.

Material: Crafted from durable alloy, this smartwatch offers a premium build quality that withstands daily wear and tear.
---
Section 2: Functions
The 8Pro Smart Watch is a powerhouse of functionality, offering an extensive range of features that enhance your daily life and fitness journey:
Notifications: Stay connected with synchronized incoming messages from various platforms, including SMS, Facebook, Instagram, Twitter, and WhatsApp. Additionally, receive incoming call reminders directly on your wrist.

Calls: Seamlessly make and answer calls by connecting the smartwatch to your smartphone via Bluetooth, ensuring convenience and ease of use.

Health Monitoring: Keep track of your well-being with the 8Pro Smart Watch. It offers heart rate detection, blood pressure detection, blood oxygen monitoring, and breath mode, allowing you to monitor your vital health metrics effortlessly.

Sleep Monitoring: Gain insight into your sleep patterns through objective and scientific sleep monitoring. The smartwatch records and analyzes your sleep status, helping you understand your sleep quality.

Fitness Tracking: Stay motivated and achieve your fitness goals with the 8Pro Smart Watch. It accurately counts your steps, monitors calories burned, and tracks the distance covered, enabling you to stay active throughout the day.

Sport Modes: Engage in various activities such as running, skipping rope, cycling, and mountain climbing, as the smartwatch offers dedicated sport modes to track your performance and progress.

BT Music Player: Take control of your music playlist directly from your wrist. The 8Pro Smart Watch acts as a remote control for your phone's music player, offering convenience during workouts or leisure time.

BT Camera: Capture moments effortlessly with the BT Camera feature. Use the smartwatch to remotely control your phone's camera and take photos from a distance, perfect for group shots or creative angles.

Find Phone: Never misplace your phone again. The 8Pro Smart Watch features an anti-lost function that allows you to ring your phone or watch, making it easier to locate your devices.

Custom Watch Face: Personalize your smartwatch by uploading your favorite photos as watch faces. Express your style and make the 8Pro Smart Watch truly your own.

Strap Compatibility: Enjoy versatility with the 8Pro Smart Watch. It supports a range of 42mm and 44mm straps, allowing you to effortlessly change the strap to match your outfit or mood.

Sedentary Reminder: Maintain an active lifestyle by setting reminders to move. The smartwatch notifies you when it's time to engage in physical activity, promoting a healthier and more balanced lifestyle.

Additional Functions: The 8Pro Smart Watch offers a plethora of additional

you can buy this smart watch from here - https://omgdeal.shop/
Tagged: