BOYA BY-MM1 Cardioid Microphone - TEC - TALK with HIRUSHA
If you're looking for a reliable and affordable microphone for your video projects, the BOYA BY-MM1 Cardioid Microphone may be just what you need. This microphone is designed to capture high-quality audio with excellent clarity and directionality, making it a great choice for vlogging, interviews, and other video content.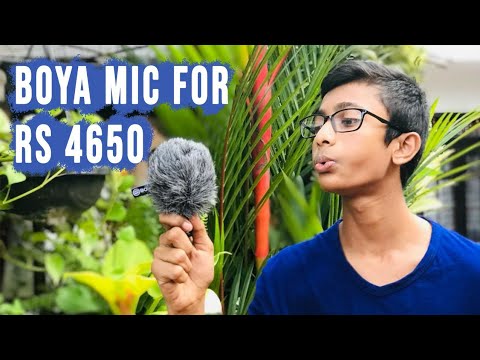 One of the key features of the BY-MM1 is its cardioid polar pattern, which means it is highly directional and primarily picks up sound from the front of the microphone. This helps to reduce unwanted background noise and ensures that your voice or other audio source is captured with great clarity. Whether you're recording outdoors or in a noisy environment, the BY-MM1 is up to the task.
Another advantage of the BY-MM1 is its compact and lightweight design. The microphone measures just 3.8 inches in length and weighs only 2.5 ounces, making it easy to carry with you wherever you go. It also comes with a shock mount, which helps to reduce vibrations and handling noise, further improving the quality of your recordings.
The BY-MM1 is compatible with a wide range of devices, including smartphones, cameras, and audio recorders. It comes with two cables - one with a 3.5mm TRS plug for use with cameras and audio recorders, and another with a 3.5mm TRRS plug for use with smartphones and other mobile devices. This versatility makes the BY-MM1 a great choice for a variety of video production scenarios.
To use the BY-MM1, simply attach it to your camera or smartphone using the appropriate cable and mount it securely using the included shock mount. Then, adjust the microphone's direction to point towards your audio source, and start recording. You should notice a significant improvement in the quality of your audio compared to using your device's built-in microphone.
In conclusion, the BOYA BY-MM1 Cardioid Microphone is an excellent choice for anyone looking for a high-quality microphone at an affordable price. Its directional design, compact size, and versatile compatibility make it a great option for a wide range of video production scenarios. Whether you're a vlogger, interviewer, or just need to capture high-quality audio for your video projects, the BY-MM1 is definitely worth considering.
So, if you're interested in improving the audio quality of your videos, be sure to check out the BOYA BY-MM1 Cardioid Microphone
Tagged: